Press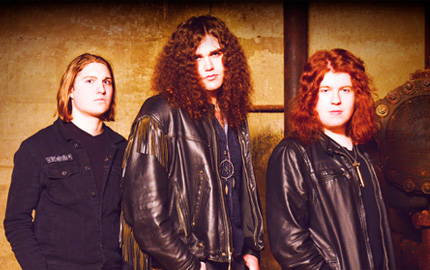 Bad Authority. Recapturing the true spirit of rock and roll with big hair, loud guitars, wailing vocals, and relentless energy. Influenced by artists such as KISS, Led Zeppelin, Dokken, Iron Maiden, Motley Crüe, and many more, Bad Authority delivers a rip-roaring, explosive rock and roll show to be enjoyed by listeners of all ages.
In 2014, Bad Authority took first place in the first statewide Battle of the Bands competition hosted by the Iowa Rock N' Roll Music Association, which would kickstart their rock n' roll careers. In 2016, Bad Authority would further establish themselves as a band to remember when they opened for a number of nationally acclaimed rock acts including the Steve Miller Band, Ted Nugent, the Ron Keel Band, and more. 2017 brought a lot more fortune for Kyler, Ted and Miles when they were able to open for other rock giants such as Three Dog Night, Great White, Head East, Jackyl, and Wayland. The momentum continued into 2018 for Bad Authority as they opened for both Three Dog Night and Ted Nugent once more, KISS legend Gene Simmons, Christian heavy metal artist Stryper, and Nu Metal giants Papa Roach and Chevelle. 2019 saw Bad Authority playing with even more rock legends, such as the likes of Poison superstar Bret Michaels, as well as doing a number of their own outstanding shows.
Although 2020 posed significant challenges, the band was able to move forward in continuing to push their electrifying 2019 EP and begin working on their next release. The band returned to the stage in 2021, performing with '80s hard rock veterans Night Ranger and Quiet Riot. At this time, the band is anxiously awaiting to announce their plans for the rest of 2022 in order to press on as 'defenders of the faith' to keep the spirit of rock n' roll alive and well.
© Bad Authority | Website by Fusebox Marketing